Reply mail for business clients
Make it as easy and convenient as possible for your clients to respond to your sales promotions (e.g., mailing campaigns, catalogues, Tip On Cards, etc.)! Depending on your objective, you can prepare a personalised reply option that includes the address or that can be filled in freely. You will pay for postage so your clients won't have to buy a stamp, saving them a trip to an Austrian Post service location.
Your benefits:
Eye-catching formats
Free, simple response option for your target group
Clear call to action for your clients increases the response rate
Quantifiable mailing performance
Gather new addresses at a low cost
No minimum volumes
You only pay for the reply items actually sent to you
Inexpensive postage at the ECO rate
Just follow these easy steps:
Design your response instrument as a reply item with a pre-printed return address. Templates as well as guidelines for the design of reply cards and envelopes are available in the download area. Please note the minimum paper thickness of 160 g/m² for reply cards up to format A6, and at least 200 g/m² for cards above this size.
In addition, please write the words "ANTWORTSENDUNG" (reply mail) in bold letters above your address on your reply element.
We recommend using one of the postage paid indicia available in the download area; please note that these may not be changed in size.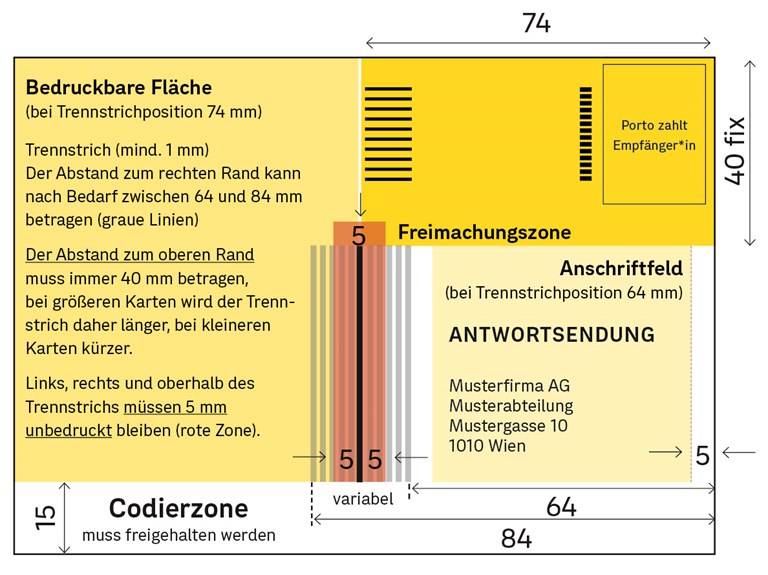 Go to GTC
All relevant information is available under "Special conditions, domestic reply mail".